Extra Packages Linked to Web Design may benefit both website developers and their potential clients. Besides, agencies are always diligent in seeking additional avenues to generate continuing value for their customers as the digital world becomes more dynamic. After all, the cost of acquiring a new website project gradually increases.
To remain afloat, web designers must adjust and raise their sales per customer. This article will go into various methods for increasing the website project revenue that any designer or entrepreneur can adopt.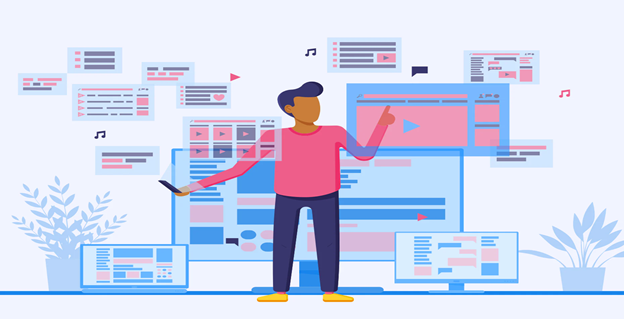 Extra Packages Linked to Web Design #1. Website Maintenance Services
Web maintenance falls first in our list of the extra packages linked to web design and development. As a designer, both you and the customer would benefit from having peace of mind. Your client will like to know that you will be there for them if anything goes wrong. And, for a fee, you will be.
Websites fail, CMSs and their modules must be updated daily, JavaScript libraries must be updated, and so on.
Since ongoing maintenance is such an important aspect of maintaining a website, some companies focus exclusively on this service: Companies that specialize in site maintenance feature in Google search results for the term "website maintenance services."
Before a project starts, discuss an existing website maintenance support contract so you don't have to do any awkward post-project upselling, and the client can rest assured knowing you'll be there to help them when the time comes.
At Sleek Web Designs, we may launch a client with a monthly base rate of certain hours, based on how complicated their website is, which is then immediately paid out at our regular hourly rate. If all of this sounds like too much hassle for you or your squad, consider contracting website management to a reliable service provider who will happily take on the responsibility.
Additional Packages Linked to Web Design #2. Research and Development
Websites are getting stale quicker than the loaf of bread in your cupboard, due to the relentless evolution of technology.
Sharing your excitement for architecture and the future of the Web with your customer is a perfect way to improve your partnership, and it also serves as a great pre-sell for when you uncover a new plugin or piece of technology that can support their business. It's no wonder research and development came second in our top "Extra Packages Linked to Web Design."
Our service professionals are always on the lookout for new ways to develop our own and our clients' websites. And when we come across something amazing, we don't hesitate to tell you about it and offer our additional plans related to Web Design to help them introduce it on their web.
Extra Packages Linked to Web Design #3. Conversion Rate Optimization
At the end of the day, you can't predict how real people would interact on the platform you've produced with 100% certainty. However, as a web developer, conversion rate optimization services can help with this.
When we clarify the idea of being able to randomly break test various versions of their website — A/B testing — to increase conversion rates, most of our clients are taken aback.
Conversion rate optimization services may provide the following:
Putting the website improvements into action: You will upgrade the site with the latest template as appropriate.
Establishing the experiment: theories, regulated variables, and proposed research variants
The experiment's findings are presented as follows: You could make a summary of the information you've learned and the modifications you think could be made.
Experiment administration: You can do this with apps like Visual Website Optimizer or Optimizely.
Bonuses
· Additional Packages Linked to Web Design #4. Managed Web Hosting
Traditional website hosting has become the go-to tool and one of the Extra Packages Linked to Design for web designers and developers to produce ongoing revenue from their existing customers.
As an agency, your consumers will be overjoyed to discover that they won't have to find and handle their own web hosting solution. This also makes web changes and support programs simpler for both you and the customer.
Rackspace and MediaTemple, two reputable shared web hosting firms, provide inexpensive, managed platforms that allow you to host several website domains.
You should be using a virtual private server (VPS) provider like Linode, Digital Ocean, or Prgmr if you want decent pricing and fine power of your web hosting services. Virtual hosting helps you to install and maintain several website domains, much like shared hosting.
The drawback of using a VPS is that if you are inexperienced with webserver management, the learning curve can be high. A VPS, on the other hand, has many advantages over cooperative web hosting, including more hardware power and much greater control of your server's functionality and setup.
· Extra Packages Linked to Web Design #5. Online Marketing
The customer has made the decision to invest in a website, and the most popular explanation is that they think it would help them create new market opportunities. Developing their web marketing strategy might be one of the extra packages linked to design you provide. Setting up a mailing list, SEO, designing best practices for maintaining their social media profile, implementing an online advertisement campaign, and so on are all examples of things they should do.
Even if you aren't a specialist in web marketing, you can still make a good living by subcontracting jobs to those who are. Many digital marketing companies (including mine) have a healthy collaboration program that helps you to produce an industry-leading marketing tool without having to learn and implement the most up-to-date traffic-generating tactics.
Be diligent and do your homework while choosing an organization in which to form a long-term relationship. Your customer relies on your advice, and you don't want to make a mistake and let them down.
· Bonus Services Linked to Web Design #6. Analytics Interpretation and Reporting
You've used web analytics code in the architecture, and the site's use is being tracked. However, analyzing the analytics and, most significantly, understanding what they say requires a considerable amount of time from the customer. Seeing someone who knows the data produce reports, analyze them, and make recommendations for site changes based on the data may be helpful to your customers.